Tuesday, March 31, 2009, 08:00 - Commentary, Photo of the Day
Stúrovo, Slovakia

Goodbye Slovakia! At least for now… I am headed to the airport and back to New York so I won't be blogging as much this week. But in the meantime here is an interesting piece from our friends at
Der Spiegel which discusses
what has been happening in the twenty years since the Berlin Wall fell.

"The year 2009 is a one of remembrance for Europe. It has been two decades since the democratic revolutions of 1989, a major turning point in both European and world history. This anniversary year provides an opportunity to reflect upon the last two decades: Where was Europe in 1989? What has been accomplished since then, and where are the political deficiencies that still need to be addressed? What challenges still exist for world politics, and what role can Europe play in addressing them?

"The transition from the 1980s to the 1990s was a "moment of hope," during which almost everything seemed possible: the worldwide spread of human rights, democracy, and wealth; and for Europe, nothing less than the transformation of the Western European integration into a real union for the entire continent. Twenty years later, we are fortunate to live in a Europe that is very different from that of 1989. For the first time in its history, Europe is largely at peace. The continent has eliminated its nuclear arsenals. Even the Western Balkans, wracked by bloody ethnic-nationalist wars for much of the 1990s, are now relatively stable.

"However, 2009 is the year in which the "post-Cold War" world will definitively come to an end. With the collapse of the world's financial markets, the neoliberal triumphalism of the post-Cold War decades has been deflated for good."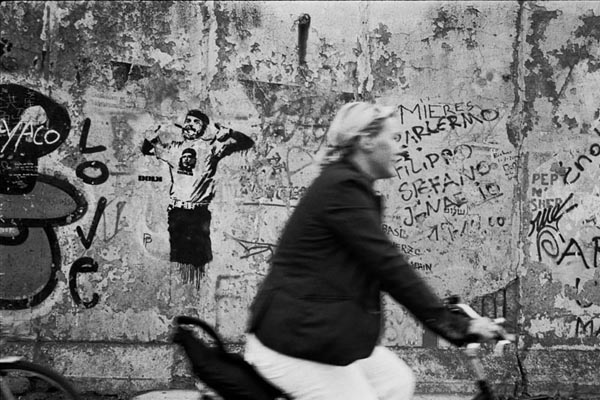 And the walls came tumbling down.
Berlin
2006 © Damaso Reyes
It is very easy for us to get caught up in our own journey and to forget how much the world is changing around us. That is the very reason why I have embarked upon this project: to offer a glimpse at the changes which are happening and a world which is slowly transforming before our eyes.
This year offers a great opportunity for us to reflect on the last twenty years as well as the next. I think that the changes the future has in store for us will far outstrip anything our imagination can conceive of…
Back
Next