Saturday, February 24, 2007, 11:39 - Personal
Stuttgart
My life has been framed by the twin concepts of Rejection and Acceptance. No matter how far I seem to have come or how old I get these two parallel themes are my constant companions.
It seems as though my life has been punctuated by a few significant instances of acceptance. I recall tearing open my acceptance letter to NYU; the first woman who bade me come closer; the fact that I am writing this entry at 5 a.m. in Stuttgart, one of 800 or so who applied for the privilege.
And yet…
Between those moments of unexplainable acceptance lie many, many more instances of opposition. Sometimes it feels as though it cuts to who I very essentially am. It is not simply the letter thanking me for my application, or my submission, or my request for information: no it is more profound, at least to me, than that.
I've never been the pretty girl at bar.
I've never been the first picked on the team.
I've never been so good at anything that my talent has been more important than who I am.
Moreover,
I've never been anyone's best friend.
I've never been anyone's most…
I've never been more important than…
I stopped wondering why quite some time ago but unfortunately for me acceptance never truly comes. It might sound overwrought but I suppose we all strive for happiness. I suppose my problem is that I am so acutely aware of my own unhappiness that at times it colors everything else.
But I can no more change who I am than I can fly. But does that mean that I will never see over my own horizon? Does that mean that my moments of joy will always be fleeting? Can I never be the object of someone's desire or will I forever be hawking myself like so much aluminum siding? Are these the moments, the late night interludes, or more accurately, the early morning ones, to which I must become accustomed?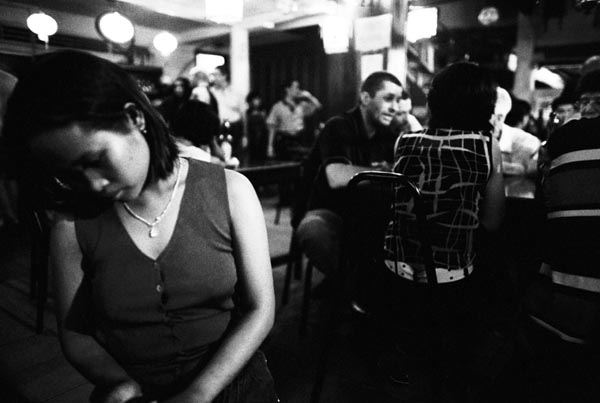 Ayu, Jakarta 2003. ©Damaso Reyes
Where's my wife and family?
What if I die here?
Who'll be my role-model?
Now that my role-model is
Gone… Gone…
Perhaps solitude is a prerequisite to what I do. Maybe this is but one in a long line of hours in which I ask myself exactly what was it about myself which was that much less appealing? The feeling is certainly not unfamiliar; it seems that the scenery has simply changed.
So I sit here, in my solitude.
And in the morning the sun will rise and no doubt I will shake off this antic disposition.
Back
Next