Thursday, February 2, 2006, 20:41 - Shooting, Personal, Project News, Events
New York City
Happy New Year!
Okay, itís a month late but itís the thought that counts, right? Tonight is the opening of the group show I am in at E3 gallery here in New York. After processing all my film and doing quite a bit of printing, the big day is here. I have selected a group of images from my two trips to Kosovo last year. I am pretty happy with the work that I am showing.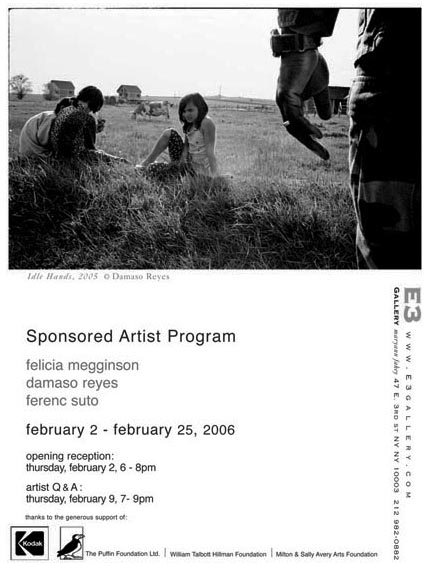 A very exciting invitation.
While the show is small it feels like a big step for me. This is the first time that I am showing work from The Europeans, one of what I hope will be many work in progress shows over the next few years. As an artist, I spend a great deal of time working in my own little bubble, not really interacting with people about my work. Tonight I will be presenting my vision to the public, or at least the friends who show up. Putting oneís work out there is always a little bit nerve racking but I believe deeply in this project, no matter how other people might react to the images I show tonight.
|
0 trackbacks
|





( 3 / 2083 )
Back