Saturday, August 18, 2007, 17:11 - Travel
Hamburg
So while I am in Hamburg I thought I would give you guys an entry from the dead stories file. As a freelancer there are stories that you might love but you can't find a home for. This is one of those, enjoy!
Punk Rock Missionaries in Times Square
By Damaso Reyes

New York City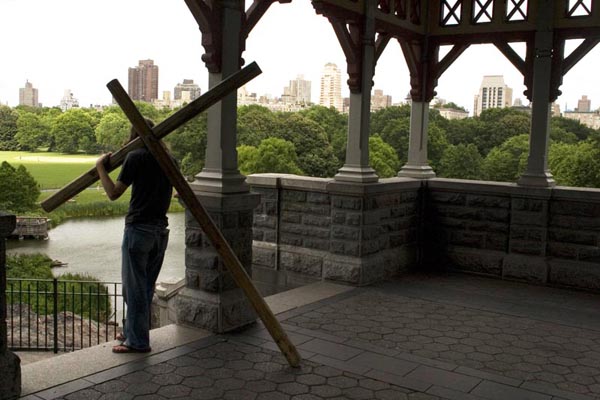 "Sorry we're late man, we were out with a friend at this bar until like four in the morning," is not something that you would expect a young missionary to say to you but then again 24 year-old Lance Steinhibel is not your average fresh faced missionary on his first trip to New York. A few feet behind him his best friend and traveling companion Nate Smith was carrying the weather-beaten, seven foot wooden cross they have been traveling the country with up Broadway on their way to Times Square on their first full day in New York.
"There sure are a lot of people, is it always this crowded?" Lance, a resident of Kansas City, Kansas, asked a native as the pair walked through the crowd gathered in front of the Armed Forces Recruiting Station located on a small, triangular spit of land that every tourist seemed to want to be photographed on. Setting up shop in front of the Toys 'R' Us on 44th street, the pair were planning on spending the next three days carrying the cross from one end of Manhattan to the other, much to their dismay there wasn't enough time to carry the cross to the outer boroughs, although they did manage to catch a Yankees game, sans cross, the day before.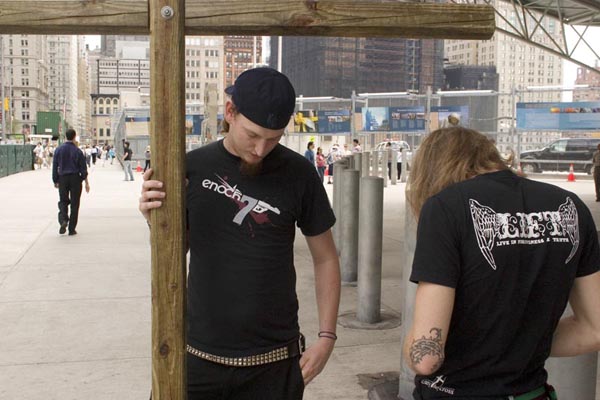 "Well let's see if we can do this in order," Nate replied when asked how many other cities they had visited in the ten months that they have been on the road. "Seattle; Seaside, Oregon; Portland; San Francisco; Las Vegas; L.A.; Orange County; San Diego; Tucson; then Phoenix; the Mesa area; El Paso, Texas; Houston; Mardi Gras, which is New Orleans; we went home after that, we were home for Good Friday; Nashville; Atlanta; Miami; Key West; then back to Atlanta; then up to Charlotte, North Carolina; then Raleigh-Durham; and then Richmond for a day; oh yeah, then Charleston, we did Charleston before we did Charlotte; then we did D.C.; Baltimore; and Philadelphia."
All that in a cramped, rusting, yellow and beige '77 Toyota camper barely suitable for driving, let alone living in.
"We get along because we love Jesus, that's the plain truth," Nate said with a laugh, acknowledging the tight quarters they often found themselves in during their cross country trip, the idea for which came to him in a vision. "I don't know how we haven't killed each other," Lance commented.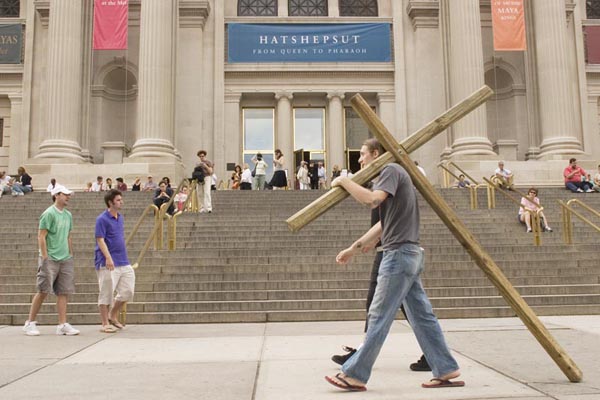 With dozens of tattoos and multiple piercings between them, the casual observer might think the two would be more at home at CBGB's down on the Bowery than toting a large religious symbol down to ground Zero for a prayer session, yet there they were, silently looking down into the pit that the World Trade Center PATH Station gives an excellent view of. Once they emerged into the dazzling sunlight, they took a moment to pray, then put the cross back together (it breaks down into two pieces to facilitate carrying and only took about five dollars of lumber to make), before setting up shop across from the fence that tourists have made into a makeshift shrine. Within minutes Lance was sucked into a theological discussion with a homeless street preacher/performer whose turf they had inadvertently set up on. For the better part of an hour Lance talked patiently with the man in the noon sun while Nate stood nearby holding the cross, speaking with whoever stopped by.
"Whaddya doin'?" A construction worker walking towards his flat bed truck asked impatiently in an accent located somewhere between Brooklyn and New Jersey.
"Just praying for the City," Nate replied with an earnest smile, his lip ring glinting in the sunlight as he tried to shade his eyes.
"Oh, okay, God bless," the construction worker replied as he got into his rig. While tourists from all over asked them to pose for photos with the cross, most New Yorkers shrugged and kept on walking.
"A lot of people get very caught up in what they think a Christian should be," Nate told a reporter when asked how more conservative Christians responded to his Punk Rock persona. "It's alright to go out and have a few drinks, you know? You look at the places Jesus went to and the people he was around, you know he went to a tax collector's house? That just wasn't done back then.
"The fact that we go have a drink at a bar with somebody enables us to relate to people," he continued.
"I think we're able to reach a lot of people that way," Lance added. "People listen to us more just knowing that we're real people, that we're not just out there yelling and screaming at them."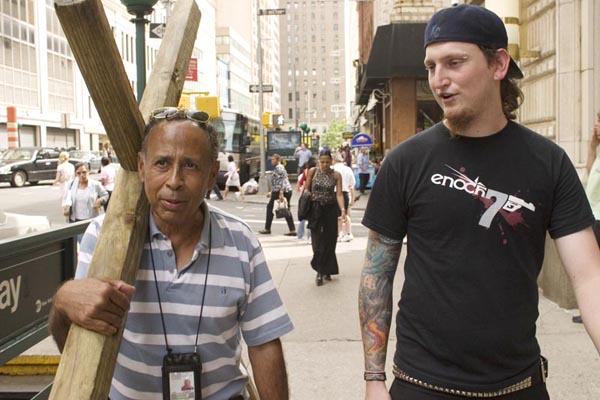 After a few hours of standing and talking in the brutal summer heat the pair walked around lower Manhattan a bit to see a few things they didn't want to miss: the Stock Exchange, Lady Liberty in the distance from Battery Park. As Nate was carrying the cross up Greenwich Street, a middle aged Dominican street vendor abandoned his cart and took over carrying the cross for a few blocks. Inspired by the dedication of the two young men he swore that he too would build a cross to carry around the city before giving them a few dollars for lunch and hurrying back towards his unattended cart
"We believe it's not about a religion, it's about a lifestyle you live," Nate said.
© 2007 Damaso Reyes
Back
Next