Sunday, August 5, 2007, 18:01 - Project News
Berlin
So my first day of work was on Friday and I was very excited to get things started. I showed up bright and early and was introduced to the shiny,
minimalist
offices on
Unter den Linden
. White walls, white floors, white desks, white computers, pretty much white everything. The people were warm and friendly and didn't even seem to mind my bad German, fortunately for me. There was even some openness to one or two of the story ideas I pitched, so we shall see what comes of it.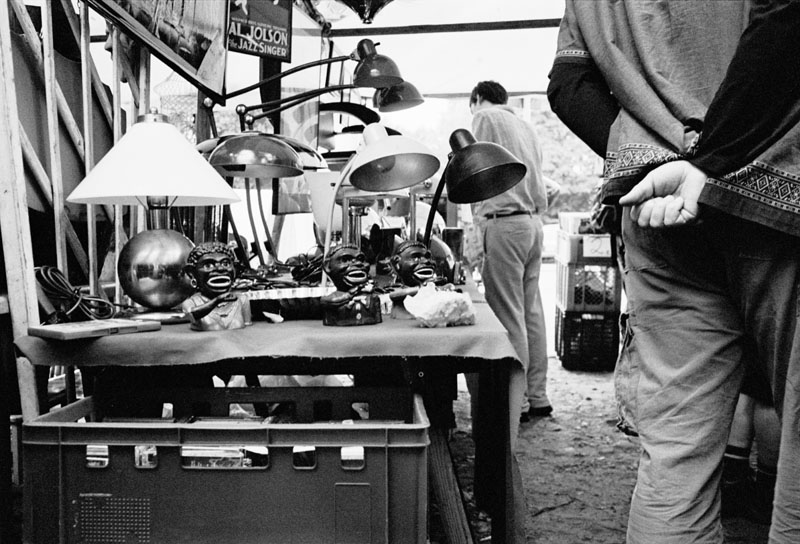 A moment in the Floh Markt. © Damaso Reyes
Yesterday and today I made my way to a few of Berlin's famous
flea markets
. I picked up a few things here and there but that rare bargain Leica lens is still on the run, maybe one day I will get lucky. After spending the early afternoon in the sun (yes, it has finally warmed up here!) I met a few of the other Burns Fellows at the Beach Bar. While Berlin is not on the ocean we were still able to dig our toes in the sand and watch the tour boats wind their way along the Spree. Afterwards I met my friend
Patricia
, who I met at
Solitude
, for a quick bit to eat before she had to head back to her cell, er, I mean home in Hanover.
Back to work tomorrow but I am meeting a source later for a story I am working on, details to follow. The big question I have for you is whether I should go to Zürich this weekend. There is a big street party that I would like to photograph but I am a little on the fence, what do you guys think?
Back
Next