Thursday, April 10, 2014, 10:10 - Project News
I hope that you can come to my exhibition here in Uster on the 15th of April!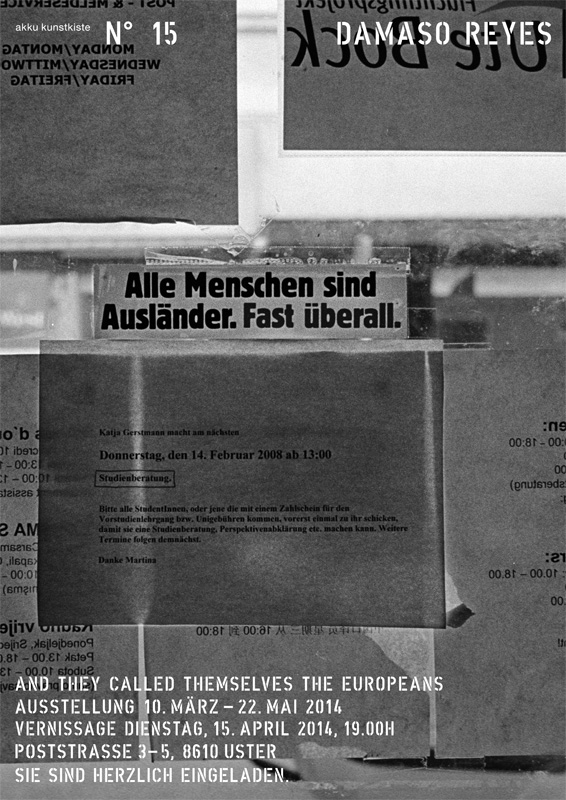 And They Called Themselves The Europeans
A Multimedia Installation
10 March – 22 May 2014
Reception 15 April at 19:00
Poststrasse 3-5
Uster 8610
Switzerland
And They Called Themselves The Europeans is the outdoor multimedia installation by AKKU (http://www.akkuuster.ch/) artist in residence Damaso Reyes currently on display in Uster through the 22nd of May. The installation consists of two separate but interrelated pieces:
Some Europeans
is a 30 minute projection featuring over sixty black and white photographs taken throughout Europe over the course of eight years.
A Day In The Life Of Europe
is a 60 minute audio piece comprised of ambient sound, music and interviews collected by the artist during his travels in Europe. Spoken languages in the piece include English, German, Spanish, Catalan, Turkish, French and Ukrainian.
The installation is a glimpse of Reyes' ongoing photographic documentary project The Europeans which is exploring how Europe and its people are changing as the European Union expands and integrates. Begun in 2005 the project seeks to question and expand the definition of who is a European as well as how Europeans see themselves and each other.
Through the sounds and images in this installation visitors have an opportunity to visit places and hear the voices of people they would otherwise never encounter. From a Catalan independence demonstration in Barcelona to a worship service of Pentecostal Christians in Kiev And They Called Themselves The Europeans offers a unique visual and aural perspective on the transformations taking place across the continent. Through the images presented we see the faces of Europe from immigrants and asylum seekers to politicians and soldiers. In this work Reyes takes us on a visual exploration of Europe in distinctly human terms. By listening to the audio we hear the stories of both immigrants and their children as well as the sounds of nature and celebration. Though the works run simultaneously the sounds and images are not directly linked which allows for interesting conflations as the two pieces loop throughout the day and night.
Back
Next