Monday, March 2, 2009, 09:48 - Commentary, Photo of the Day
Štúrovo, Slovakia
I hope that you enjoyed the photos we posted last week but we also know that you come for the interesting news and discussion about Europe so this week there will be a bit more of that. To start things off I thought I would highlight an interesting article I found a while back at
The Local in Germany
about integration.
"At Hamburg's Colón Language Centre, the integration course this correspondent attended was broken into two parts. From 8:50 am until 11:15 am each weekday, students learned grammar, vocabulary and pronunciation. Most of the morning was spent copying terms from the blackboard. Questions were welcome, but only if they were in German and at a recent class few people spoke up.

"The course brought people from Syria, Peru, India, Italy, Iran, Tunisia, Egypt, the Philippines, Turkey, Colombia, Brazil, Tibet, Belgium, the United States and Spain together for half a year, and varying social mores, educational backgrounds and ages occasionally caused a clash of cultures. A brief lesson on the German word for kissing, for example, upset the women from Egypt and Tunisia. And one person's idea of helpful instruction was another's idea of being bossy.

"But sometimes the global mix made things interesting. After unanimous approval of students, the class hosted a Christmas party. Instead of a variety of salty Teutonic snacks, revelers ate delicacies from around the world. And simply because they sat next to each other in class, a Spaniard ended up learning standard German greetings from a young bride from Turkey."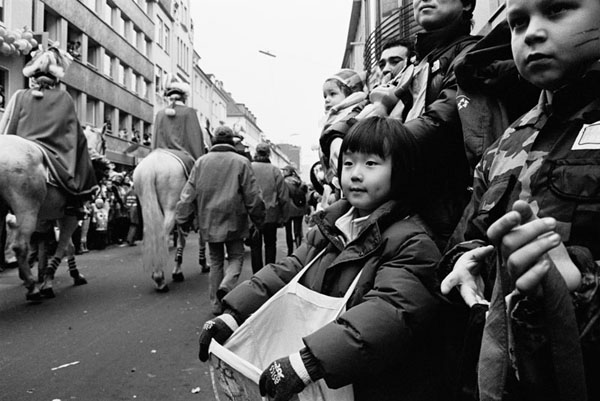 A paragon of integration. Cologne 2007 © Damaso Reyes
The piece is very interesting and well worth reading. I think that it shows that some in Germany, and in Europe, are starting to understand that integration is an active process, one that also takes time. How Western European nations choose to deal with their immigrants will ultimately decide how successful these countries are in a global society.
Back
Next