Wednesday, March 12, 2008, 20:56 - Commentary
Stuttgart
Once again
I have been spending quite a bit of time editing. A lot of you must wonder what it is all about. Well ten or twenty years ago it was all about hanging out in the darkroom and making a lot of small test prints. Today it is all about hanging out in front of the computer and looking at images in Photoshop. Hundreds of images as a matter of fact. Taking a photograph isnít just about one single moment; it is about a series of moments. I rarely take a single image of something and then move on. I will take many variations, trying different compositions.
What you see when you are taking a photograph isnít always what you want. Often you donít consciously know exactly what you want out of an image. Sometimes you donít see everything there is in the frame. So shooting three or four or five images is a way of figuring out what you want. Photojournalists are not painters; we donít have the luxury of moving our subjects around or changing the lighting. I have to work with what I am supplied. So I try different ways of framing; I move myself around and hopefully at the end of it all there is something worthwhile. Here are a few examples of what I am talking aboutÖ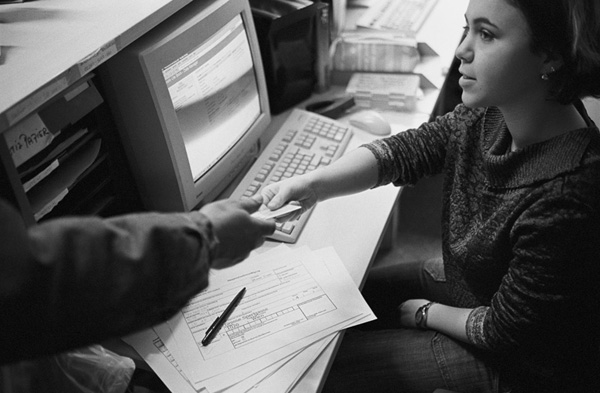 This image is okay. You get the point. There is clearly some kind of transaction going on. When I put the caption ďAsylum seeker checks his mail at a NGO centerĒ you have a clear idea of what the image is trying to communicate.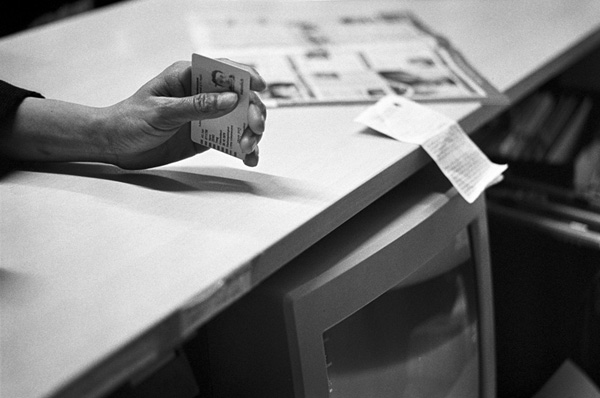 This image is a little more abstract. You see a hand, not the person; you see an ID card but not much else. This is more ďartisticĒ but it is still pretty simplistic. One of the hardest things I have to do is to try to make the ordinary interesting. As a newspaper photographer editors always want you to make the image as clear as possible. This image is less direct but still pretty simple.
This image is getting there. It is a bit more abstract. Now the focus is on this piece of paper which in this context is very ironic. Maybe too much so. We can still tell there are people waiting for something. I actually like it a lot but it isnít quite there.
For me this one is the keeper. There are multiple points of focus. The image is very layered, something I consider part of my style. You can also interpret it many different ways. What is the hand in the lower right trying to express? Look how the line of the desk is broken by the hands of the people waiting. This is what I like.
I try to make images that are as complex as the world that I photograph. At the same time I am trying to encapsulate what I am experiencing during the hours or days that I am shooting in a single moment. Tough job, huh?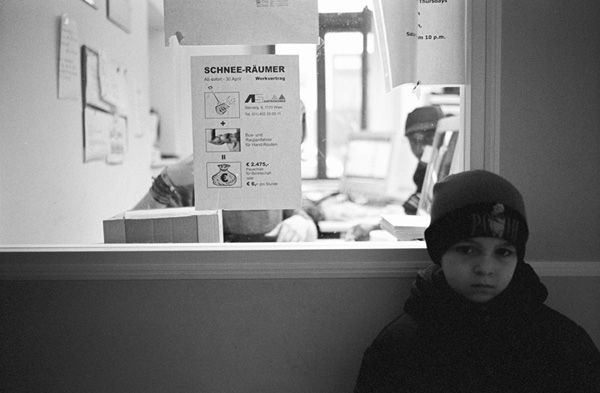 Normally this is the image I would select. We have eye contact with the subject. But I donít quite like the way the lines are working and I also feel like it is too direct. You look and say ďoh, poor little boy.Ē Too easy.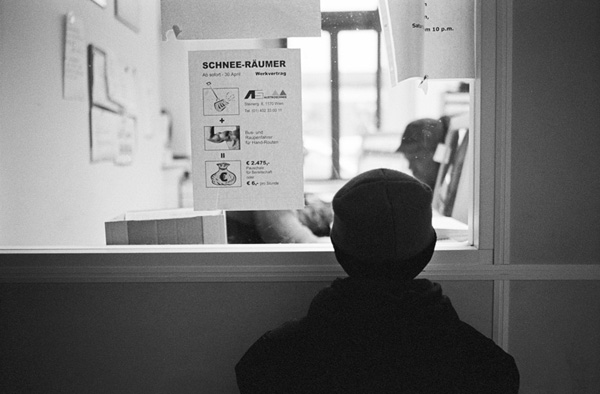 Now this photo has some mystery. What is he looking at; who is he? More importantly there are more symbols here. There is the wall that he can barely see over. There is the window that allows him to look but prevents him from coming inside. This image also allows us to focus on the poster on the window which advertises one of the few jobs asylum seekers can have. Too bad there hasnít been any snow this winter. When I was shooting this I thought that the first image would be the stronger one. Now I see that it is the second one.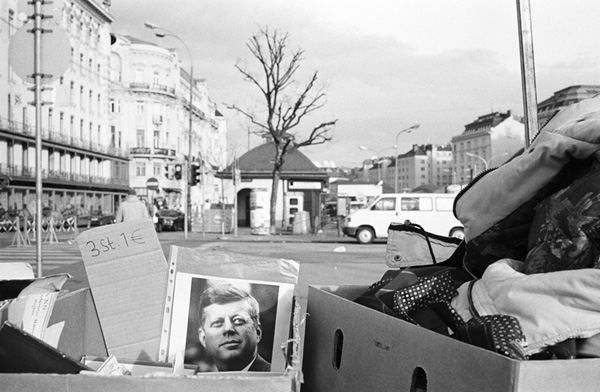 I found this at a flea market in Vienna. Cool photo, very symbolic. It seems like J.F.K. is still with us. But I find this take a bit too direct. The background doesnít really add much to it.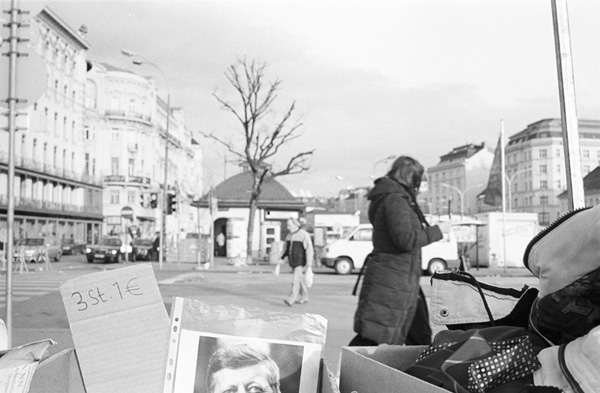 A bit better. I like the woman but you canít see Kennedy any more!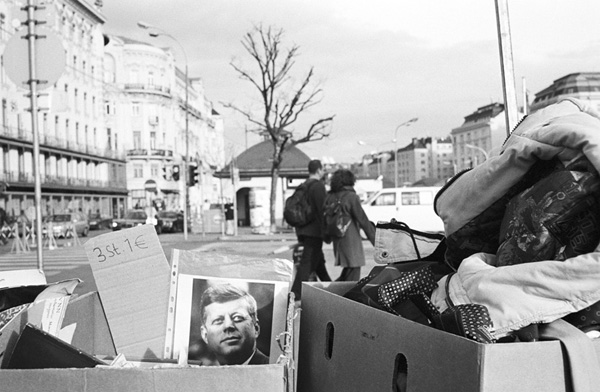 Getting there, but again I feel like it is too direct.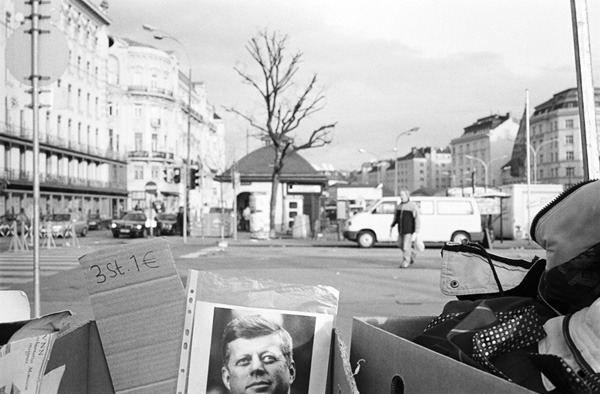 Now we have it! Just enough of the photo is cut off to make it seem like he is rising out of the bottom of the frame. I also like the man walking toward us in the background and the tree in the middle.
As you can see editing is a very subjective process. But it is also an important part of the artistic process. You can tell more about me as a photographer by how I edit my images. How hope this gives you a better understanding of what I do and how I do it. Which photos would you have selected? I look forward to hearing your thoughtsÖ
Back
Next