Wednesday, February 18, 2009, 08:05 - Commentary, Photo of the Day
Sturovo, Slovakia
When a young child jumps up and down and screams do you:
A.) ignore the child
B.) hit the child
C.) try to calmly reason with the child
Well the saga of Geert Wilders, a Dutch right-wing politician continues. He was recently banned from entering the United Kingdom even though he was invited by members of parliament. We learn so much more about the
sorry incident from
Der Spiegel and
The Guardian
.
"He was refused entry … anybody who is refused entry to the UK will be detained and returned," a Home Office spokesperson told the French news agency AFP. "The government opposes extremism in all its forms. It will stop those who want to spread extremism, hatred and violent messages in our communities from coming to our country."

The Dutch politician had vowed to defy the Home Office's order to bar him from the country so that he could present his film "Fitna" in the House of the Lords, where he had been invited to show it. In its letter earlier this week, the Home Office claimed Wilders' visit would pose a "genuine, present and sufficiently serious threat to one of the fundamental interests of society. … Your statements about Muslims and their beliefs, as expressed in your film 'Fitna' and elsewhere, would threaten community harmony and therefore public security." The ban is a blanket one that Britain claims has been applied using EU laws that allow member states to exclude entry to anyone whose presence could threaten public security,"
Der Spiegel writes.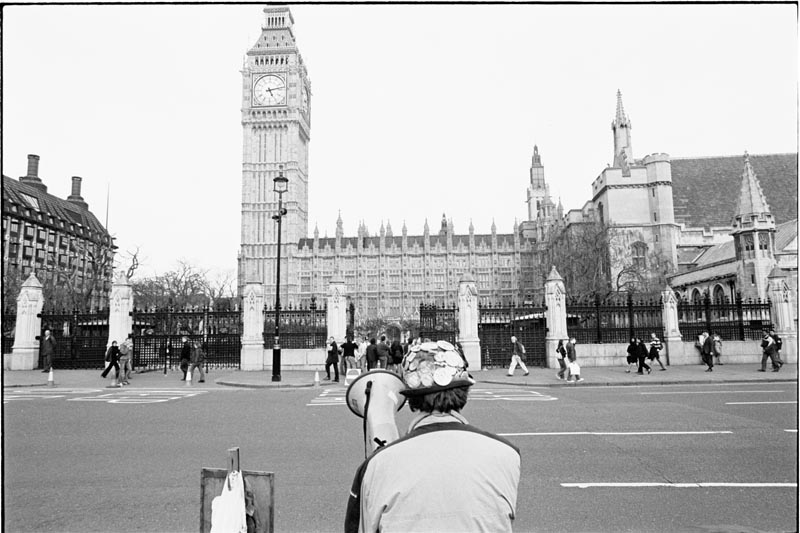 Fight for your right to protest!
London
2005 © Damaso Reyes

"The National Secular Society president, Terry Sanderson, said he wrote to the home secretary, Jacqui Smith, saying she should not have denied an application by a "democratically elected politician from a sovereign state who wants to come and express an opinion".

"It may be a controversial opinion but he is entitled to express it," he said.

"The Home Office has said it would "stop those who want to spread extremism, hatred and violent messages in our communities from coming to our country.

"The Liberal Democrat home affairs spokesman, Chris Huhne, said that while it was important to defend freedom of speech, Wilders "has overstepped the line that should be defended in a civilised society,"
The Guardian tells us.
That last statement is the one I have the biggest problem with. Who should have the right to say where the line is in a civilized society? Once the government has that power all sorts of unpopular things, people, ideas get banned. More importantly society misses out on having a sincere debate on important issues. Wilders and his ideas will not go away simply because he was turned away at the airport. If anything this silly incident has give him and his viewpoint far more attention than it otherwise would have had. Like it or not he is the democratically elected representative of his district and if Obama can say that America should reach out to Iran and North Korea why can't the U.K. engage with someone like Wilders?
Is British democracy so fragile that it cannot withstand ideas it finds unpalatable?
Back
Next