Thursday, February 15, 2007, 13:30 - Commentary
Stuttgart
Often when I tell people that I am a photojournalist they ask me if I do video as well.
I always answer no.
I mention this because of an article I saw today online. One quote gave me pause:
ďDigital stills photography will, when we look back on it, form a very small period of time in the history of photojournalismĒ, Nicol told EPUK. ďTelegraph photographers will undoubtedly be shooting solely on video in the future, and certainly within a year we hope to be well advanced down that route.Ē
Read the whole story here.
Now I know this
Platypus
idea has been around for the better part of a decade, but I am a staunch holdout. Itís not that I donít think that people should do video if they want to, after all I am a live and let live kinda guy, I just donít want to do it.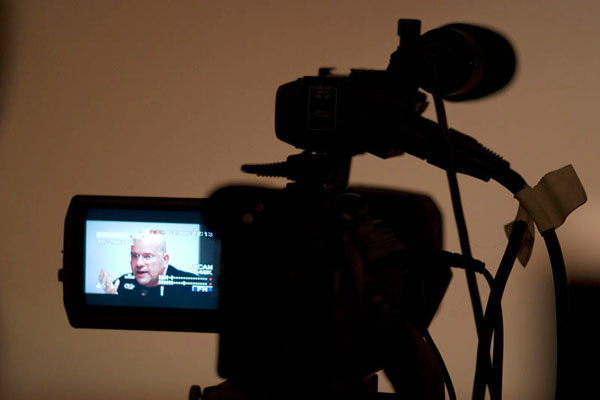 The video camera: friend or foe? ©Damaso Reyes
But why, you ask? Well, because I am a photographer. Not a videographer, director, producer or on air personality. I
like
still images, I believe that they have the ability to convey a perspective that video simply canít. As well I donít want to do all the jobs that an independent videographer has to do. My job is hard enough, thank you very much, without turning me into a multimedia octopus. And to what end? So APTV can buy my snippet and it appears for 30 seconds on a nightly news broadcast
if Iím lucky?
Or I spend years trying to sell a feature documentary that might win some awards and get seen buy a few thousand people? Not my bag. I feel artists should be free to pursue whatever they want but I refuse to let the market, or fashion, dictate how I do my work.
I still think there is a place for still photography. Now if anyone out these has a map, I could use some directionsÖ

***
Two articles I was made aware of recently bring more interesting news. The first
announces a high speed imaging sensor
, the other talks about the
trend towards video
from print publications. I'm starting to feel like a bald eagle, except they are thinking of taking them
off
the endangered species list...
Back
Next