Monday, February 19, 2007, 21:59 - Travel, Shooting, Commentary
CologneDay One
"We're not in Stuttgart anymore, Toto"
It certainly has been a long weekend!
You know, every time I embark on one of these little adventures, I forget how much work is involved. I know, it sounds silly but something like Carnival is so overwhelming I think I block out the unpleasant parts and then am pleasantly surprised when some drunken idiot smashes into me.
I took the high speed ICE train at five and settled in with a book I had been saving just for this trip,
Final Impact by John Birmingham
. The train was about ten minutes delayed getting in and of course that made me miss my connection in Manheim. Have no fear, I was rerouted to Bonn where before long I caught a train headed into Cologne, just forty minutes behind schedule.
Luckily for me I was met on the platform by the lovely Eva, a cousin of one of the outstanding staff members here who agreed to let me crash at her place, which is actually an old fraternity house. Here I was, seven years late and four thousand miles away, living the college life I never got to have!
After a quick bite to eat back at the frat house, it was time to find me a costume. Now I haven't really been into dressing up for Halloween or anything since I was a kid, but it is pretty much expected that you will. So we rummaged through the odds and ends in the house and managed to find a complete ladybug costume, which I will spare you any photos of.
One of Eva's friends knew of a house party and around ten we were off. We took the metro across town to the house where the theme was that of a forest, which some people took more seriously than others, my costume just happened to be a great fit. A real live Carnival music band was just finishing up as we entered, or rather, tried desperately to squeeze ourselves into, the house. Of course the downside of the ladybug costume, with its red fur, is that it is great at trapping heat, especially when you are pressed in cheek by jowl. Nevertheless, this wasn't my first crowded house party and after a few liters of beer I was well in the spirit. We left sometime around three or four, it's all a bit hazy…
Day Two
"Around the Way"
Initially I had some ideas about getting up early and shooting some parades but my four a.m. bedtime reordered my priorities. When I did get up, around one in the afternoon, some of the more exciting things in town had already happened. No matter, because invariably when a door closes a window is right there, ready to be opened. As it turned out, that afternoon was when all the neighborhoods in Cologne had their local parades. Cute kids in costumes, no drunken college students, what more could a photographer ask for? Eva's family lives nearby so we went out at around two thirty and spent a few hours watching little kids throw candy at other little kids who were shouting "Kamella!!!" which translates to "sweeties!" and "Alaaf" which doesn't translate to anything but is the standard Carnival greeting in these parts.
Eva and her cousin Anna. ©Damaso Reyes
So it was back to the crib for a little sack time, most of which I spent reading. I did manage to catch a few zzz's before we headed out again into the great maw of Carnival in Koln. First we needed to refuel and we went to a passable Indian restaurant and filled up on some curry.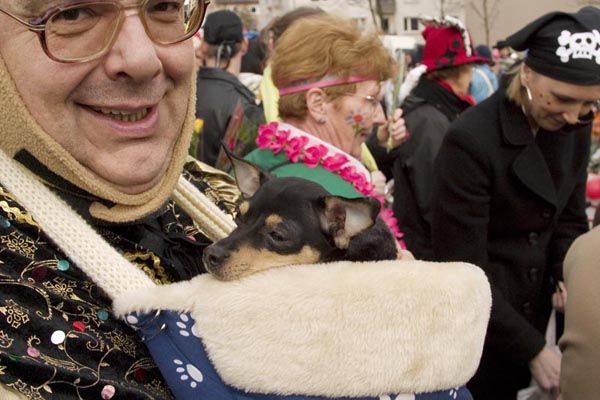 Man and dog. ©Damaso Reyes
The real problem with Carnival, at least downtown, is that the halfway cool places are literally packed to the rafters with revelers. So we spent the evening going from place to place, waiting in line, paying a cover, and sweating inside where it was only possible to get to the bar by throwing some sharp elbows, which almost made up for the ridiculous crowds (see how I suffer for my art?). Eventually we ended up at a nightclub with some of Eva's friends which was mercifully not packed like a can of sardines. The music was halfway decent, the drinks were halfway cheap, at least until midnight, and we ended up rocking out until three or so when we left en masse of one of Eva's friend's house where we had a late night snack and waited for one of Eva's roommates who was getting off of work late to give us a ride home.
Day Three
"Stranger in a Strange Land"
Sunday morning, or afternoon to be more accurate, was pretty much a repeat of Saturday. A late breakfast and little motivate to do anything but go back to bed. Today I was on my own and spent much of the afternoon lying in bed, engrossed in my novel of alternate history. Around seven I managed to summon my last reserves of motivation and hurled myself into the night, cameras in hand (if I hadn't made it clear, I had been shooting pretty much continuously over the previous two days).
I took the metro into town and got off about a kilometer and a half from the
Dom or big cathedral
which dominates Koln. As I walked down a broad boulevard, only shadows and the occasional car were my companions. Where was everyone? I silently thought to myself, adjusting my camera bag as I continued my journey. How many times had I been here before, not knowing exactly where I was heading, walking down strange streets in unfamiliar cities, alone except for my determination to somehow make this self imposed solitude worthwhile by capturing a few images.
As I approached the Dom the fleeting sounds of drums echoed off the buildings groaning under the weight of hundreds of years of history. In the square in front of the church a few food and beer vendors had set up to service the transient crowds which were walking through on their way towards a night of merriment. An impromptu drum circle had come together and visitors danced and clapped in the crisp night air, not exactly what the architects of the grand house of worship behind them had envisioned when they built the old church.
The square, with its Gothic architecture and boozing crowds was rife with image making opportunities and I wandered from one end to the other, happily snapping away between bites of bratwurst and slugs of beer.
I continued to wander the narrow streets of cobblestone and once again the pavement reflected the distant sounds of drums, and now horns as well. I followed my ears and came upon a mobile rhythm section, twenty or so deep, playing the streets. For the second time in as many days I found myself tapping my foot and photographing to that classic
"Eye of the Tiger."
I was quite impressed by the range of music they played from Cologne Carnival classics to New Orleans Mardi Gras anthems.
Eventually, and on the early side compared to the past two nights, I made my way home. I had to get some sack time in preparation for the big day tomorrow.
Rose Monday
is the culmination of the four month Carnival season and it was one parade I wasn't going to miss.
Day Four
"The Long Road Ahead"
Despite the warmth of my bed and the sleep still in my eyes, I managed to roust myself out of the house more or less on time to get to the start of the parade before it kicked off at 11. For as far as the eye could see, men and women prepared to march in blue and white. As the parade began to move forward I found myself with a particularly merry group of candy and flower throwing men and stuck with them as the parade wound its way through the heart of the old city.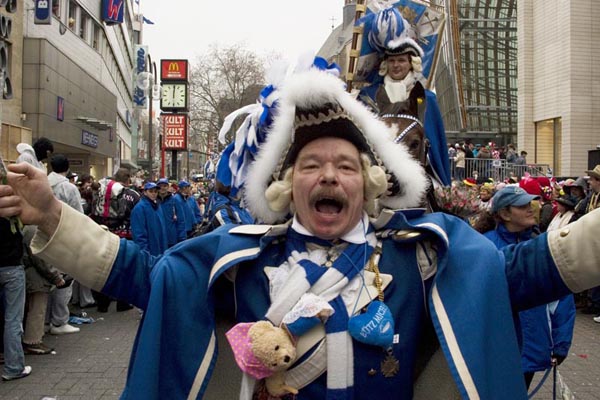 Alaaf! ©Damaso Reyes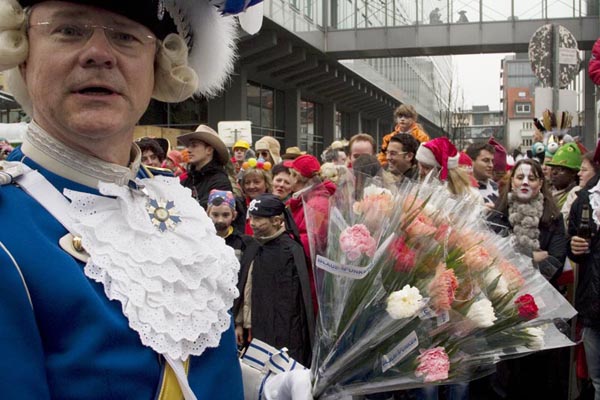 Would you like a flower? ©Damaso Reyes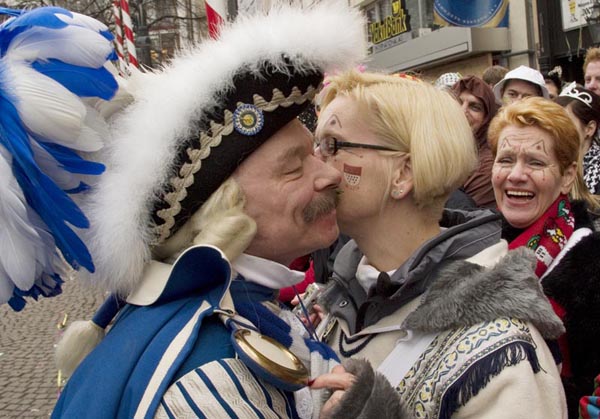 Where, I wondered were my kisses? ©Damaso Reyes
Kilometer after kilometer the sounds of drums and horse hoofs on cobblestone intermingled with cries of "Alaaf!!!" The crowds were having nearly as much fun and children of all ages dressed as only their imaginations could conceive cheered us on. Carnival here in Cologne is pretty much a family affair and far from the cries for public nudity that I encountered last year in New Orleans, here small children were the one having the most fun.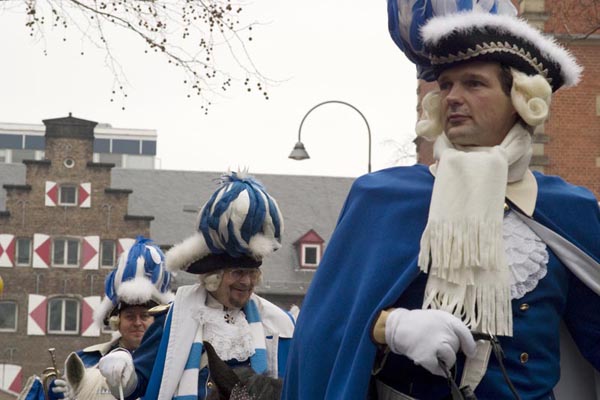 On horseback. ©Damaso Reyes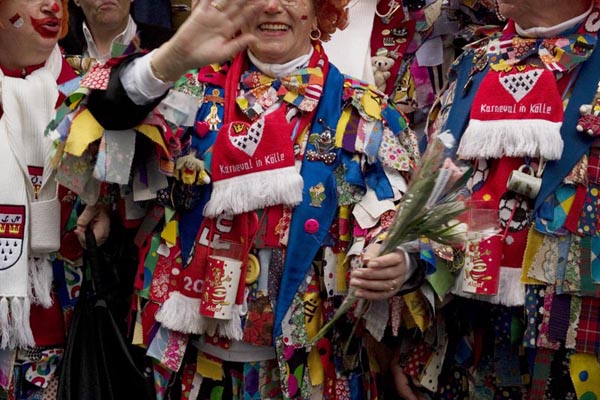 Festive attire. ©Damaso Reyes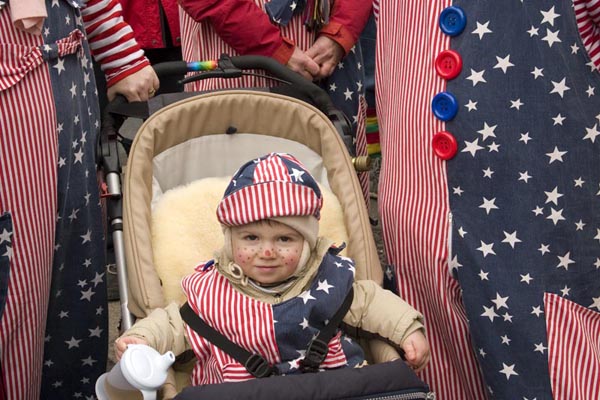 American imperialism hard at work. ©Damaso Reyes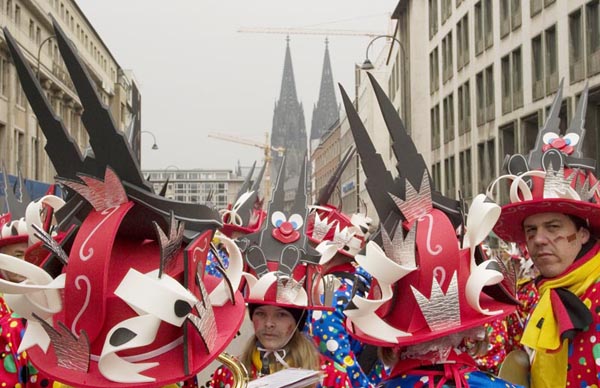 Echoes. ©Damaso Reyes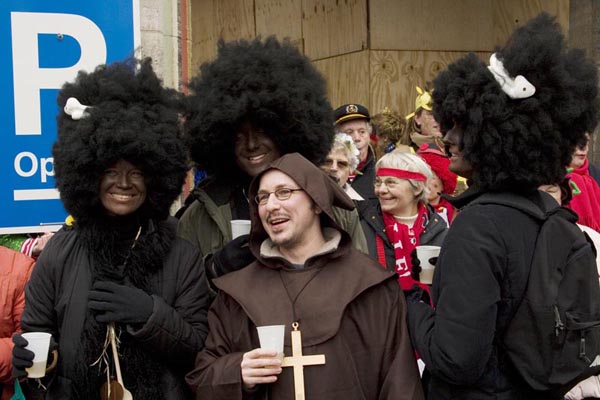 Am I the only one who finds this offensive? Comments please. ©Damaso Reyes
And now I am here at the train station, still surrounded by costumed revelers waiting for the train to take me back to Stuttgart. All in all a good couple of days.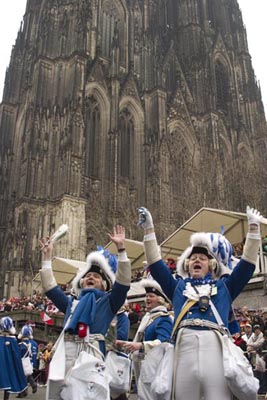 In front of the Dom. ©Damaso Reyes
Back
Next