Thursday, January 8, 2009, 12:33 - Commentary, Photo of the Day
What to do about Russia? There is perhaps no larger foreign policy question echoing around the capitals of the European Union than this. A long simmering dispute between Russia and Ukraine over natural gas has exploded as Russia has cut off all deliveries of natural gas, not just to the Ukraine but to Europe as well. Because the pipeline that supplies Europe with gas goes through the Ukraine this is a crisis that has taken on much larger dimensions, as
we learn in an article
from the BBC.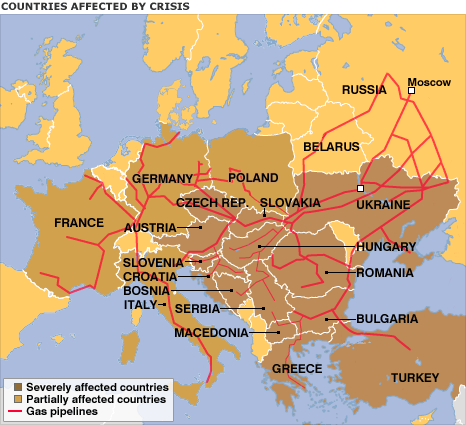 The Big Chill…
"Heating systems shut down in some parts of central Europe, as outdoor temperatures plunged to -10C or lower.

"Russia and Ukraine have blamed each other, and the EU says it wants its own monitors to check the flow of gas.

"The EU depends on Russia for about a quarter of its total gas supplies, some 80% of which is pumped through Ukraine.

"The list of countries that have reported a total halt of Russian supplies via Ukraine includes Romania, the Czech Republic, Slovakia, Bosnia-Hercegovina, Bulgaria, Croatia, Greece, Hungary, Macedonia, Serbia, and Austria.

"Italy said it had received only 10% of its expected supply."
The E.U. needs to engage Russia more aggressively instead of feeding its fears that Russia will somehow be diminished as the European Union expands. Until then Russian leaders will continue to try to find ways to show that they are still in control, especially in regards to their former satellites.
Back
Next