Monday, January 14, 2008, 18:17
Vienna
So I did some more walking around the city today. One of the things that I love about Vienna is the contrast between its new and old architecture. The entryways of buildings are especially interesting because many of the older ones have stone carvings above them and are protected by beautifully crafted wrought iron. At some point I will take the digital camera around and show you some of what I am talking about.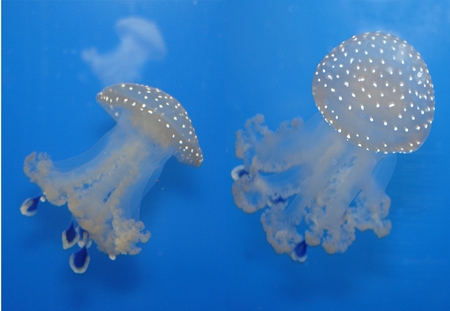 But yesterday I went to the
Haus des Meers
, the local aquarium. The building itself has a lot of history, used during WWII as an anti-aircraft tower. In the stairwells of the building they detail the building's past including posters from the era and photographs. I didn't go there for a history lesson however, I came for the fishes, and that they had! While not as big or fancy as the New York aquarium, the displays were still impressive and I got to see some lovely animals.
Well without further ago here are your Photography Jobs & Opportunities!
***
Visiting Artist Residency
at New Jersey City University during the month of April.
DEADLINE: January 31st
TO APPLY: email the following to
artresidency@njcu.edu
1) 15-20 images of recent works with complete captions (72 dpi jpeg, less than 8×8 in). For video use .mov or .wmv format 2) 2-page resume 3) A proposal of a four-week residency (Please include possible subjects of workshops with students) 4) Artist Statement (less than 150 words) 5) Contact information Awarded artist will have access to their new state-of-the-art facilities, and is required to conduct a workshop in their area of expertise, a lecture, and a student critique session. The honoraria is $1,500 For further information, email
bgustafson@njcu.edu
***

The Morning Journal wants you!
If you're a talented still photographer with the training and desire to craft online slideshow and video presentations, The Morning Journal, an award-winning daily newspaper in Lorain, Ohio, wants you.
The ideal candidate would be a detail-oriented team player with excellent news judgment, strong technical skills and the ability to work well under deadline pressure.
The Morning Journal places a strong focus on local news and sports in a highly competitive five-paper market. Action sports from prep to pro is a big part of the job. We are looking for a shooter who thinks visually and has the talent to deliver time and time again. The ability to ask questions, take notes and compose information with accuracy and decent grammar will be expected. Skills in graphics are a plus.
The paper provides Nikon D2Hs and D1H bodies, flash and a variety of lenses. Other pool equipment is available. Candidates should be familiar with Photoshop. QuarkXPress or Alpha experience is a plus. Night and weekend shifts are expected. Candidates must have their own reliable transportation.
Lorain rests on the shore of Lake Erie, 30 miles west of Cleveland, offering candidates a uniquely diverse opportunity in coverage. Regional candidates are encouraged. A bachelor's degree in journalism or related field is desired.
To apply, please send resume, cover letter and CD portfolio to April L. Elliott, Managing Editor, The Morning Journal, 1657 Broadway, Lorain, OH 44052. Portfolios will NOT be returned.
***
Internationale Journalisten-Programme--German-Vietnamese Fellowship 2008
The IJP offers a unique opportunity for 5 talented journalists from Vietnam to come to Germany in September/October 2008. Five German journalists will work as fellows in Vietnam (October/November). The IJP is a German NGO that is sponsoring fellowships for journalists from 11 regions of the world. Funding for the 'German-Vietnamese Porgramme' will come exclusively from the "Mercator Foundation" in Essen/Germany. The successful candidates will get the chance to work for a couple of months at a media branch of his/her choice in Vietnam. The fellowship will offer a lump sum of Euro 3.300, You should be between 28 to 38 years of age, have a minimum of 5 years experience in print and/or on-line journalism or TV/Radio. You should be fluent in English and have good basic knowledge of the German language.
How to enter: Please write a 1000 word essay addressing your motivation to work as a journalist in Germany. Please also include a one-page resume, your standard of German and English (copies of certificates), plus 3 copies of articles written by you (and if possible published in English), a journalistic reference from your editor and a passport photograph Deadline for application is January 31st, 2008. Write to: IJP/ Mr. Ulrich Bruemmer/
bruemmer@ijp.org
Wilder-Mann-Str. 51 01129 Dresden, Germany For further details about IJP please visit:
www.ijp.org
***

Dorothea Lange–Paul Taylor Prize
The year 2008 marks the eighteenth anniversary of the Dorothea
Lange–Paul Taylor documentary prize, a $20,000 award given annually by the Center for Documentary Studies. First announced a year after the Center's founding at Duke University, the prize was created to encourage collaboration between documentary writers and photographers in the tradition of the acclaimed photographer Dorothea Lange and writer and social scientist Paul Taylor. In 1941 Lange and Taylor published An American Exodus, a book that renders human experience eloquently in text and images and remains a seminal work in documentary studies. The Lange-Taylor Prize honors their important collaborative work.
The Lange-Taylor Prize is offered to a writer and a photographer in the early stages of a documentary project. By encouraging such collaborative efforts, the Center for Documentary Studies supports the documentary process in which writers and photographers work together to record the human story.
Applications
Images can originate in any format, but must be submitted digitally on cd. (No e-mail submission of images is accepted.) All written materials should be compiled in the order requested below on white 8 1/2 x 11 paper with the writer's and photographer's last names at the top of each page. The writing sample should be double-spaced, while all other written materials should be single-spaced.
CDS has a small staff, so it is very important that you adhere to these guidelines. Do not staple your materials; use paperclips only. And please, no folders, plastic covers, or other binding for written materials. Books, prints, newspaper clippings, or any other additional materials will not be seen by the panel. Any additional material will be donated to the CDS library.
As part of our policy, we do not review or comment on applications, and we do not release prizewinning applications from past years.
Submissions should include:
• Application form
• Self-addressed, stamped postcard for notification of receipt of materials by CDS
• Application fee of $35
• One-page proposal letter describing the project and outlining work planned
• One-page statement about the collaboration of the writer and the photographer. This statement should consider how the writer and photographer plan to work together on a joint project. Consider also in the statement the relationship of the project's photographs and words. John Szarkowski observed that in Lange and Taylor's work, "the words and images . . . supplement[ed], [did] not repeat . . . each maintained its own integrity."
• Writer's ten-page sample (double-spaced) on the proposed topic and in the style intended for project. If no work at all has been done on proposed topic, the writer should provide a sample demonstrating how the subject will be developed and written in the form and style of the final project (i.e., edited oral history, descriptive narrative, poetry, etc.).
• A brief curriculum vitae or résumé, no longer than five pages, from each applicant
• Budget, no longer than one page, outlining how the prize money would be spent. This may include stipends for project personnel, supplies and support materials, travel costs, and other expenses related to fieldwork.
• Twenty images from photographer demonstrating the ability to build a body of work. Images should be in jpeg format, saved at the highest jpeg setting, and sized at 72 dpi with the longest side of the image set at 21 inches. Each jpeg should be titled with the photographer's last name, photographer's first name (abbreviated as needed), and image number, for example: doe_john_01.jpg. Color images should be in RGB Color mode. Compact disc and case must be clearly labeled with the photographer's full name.
• Caption list for photographs
• Self-addressed, stamped 9 x 12 envelope for return of materials (please indicate on envelope which materials you would like returned, and be sure to include adequate postage). Without an SASE the Center for Documentary Studies will assume the right to retain or dispose of all materials as it chooses.
Enclose all materials in a 9 x 12 envelope and send to:
Dorothea Lange–Paul Taylor Prize Committee
Center for Documentary Studies
Duke University
1317 W. Pettigrew Street
Durham, NC 27705
Deadline
All required materials must be submitted under one cover during the month of January and postmarked no later than January 31, 2008.
Back
Next