Wednesday, January 31, 2007, 20:48 - Shooting, Personal
Stuttgart
Okay, I don't want everyone getting the wrong idea and thinking that this trip is nothing but trips to the mineral bath and beer hall. Sure, those places are playing a crucial role, but I do actually do work from time to time, I just don't like to always bore you with all the details.
So one of the reasons why I have 40 odd rolls waiting to be processed is that the film drying cabinet that they have here is, well let's just say, inadequate. So when my request to "modify" it were turned down (what's the big deal about cutting a hole in the bottom and making it a little taller?), I decided to build my own. With the help of the long-suffering Mr. Ludwig, we set upon the wood shop yesterday and created a mammoth yet stylish film drying cabinet.
It took all day, with the occasional tea break of course.
After a short break it was off to Daimler Stadium to photograph at my first professional football (soccer for you American barbarians) game. It was a bit chilly out but I had a great time photographing the game and the fans.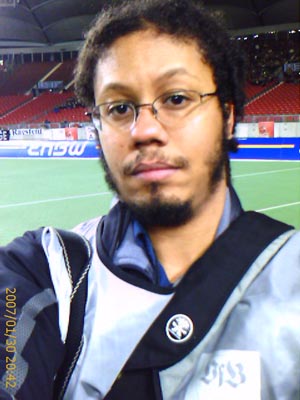 Damaso at the game...©Damaso Reyes
So see, I do actually work from time to time. Don't worry, things are ramping up, I predict a great deal of film will be processed this weekend and next week is all about setting up shoots for the rest of the month.
And yes, there will be a trip to another mineral bath…
Back
Next