Monday, January 15, 2007, 22:27 - Personal, Commentary
Stuttgart
Happy Martin Luther King Jr. Day!
This is just about the only holiday that I actually take seriously and though tempted I managed to avoid doing any work today. I simply meditated on the man and his message. How far we have come since he gave his
famous speech
in 1963 and how very far we still have to go to form this more perfect union.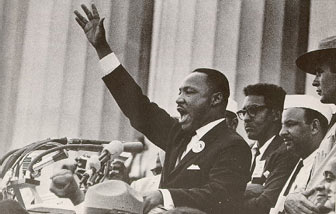 If you haven't already,
I highly suggest listening to "I have a Dream" in its entirety
. I do this several times a year myself, mostly just as an inspirational pick-me-up. But considering that it is the greatest English language speech of the 20th century there is really no reason just to listen to it one day a year. If you haven't heard it in a while, or ever heard the whole speech, you will be amazed by how relevant it still is today and just how beautifully moving it is.
When I was in elementary school every year as the holiday approached we had to do something King related. In the fourth grade I recall an art project where we had to write out the word of the speech in the background of a portrait of Dr. King. I remember thinking at the time how boring it was and how long the speech was but as I have gotten older the words that I labored over have attained a meaning that I could have scarcely imagined back then. I leave you with a paragraph from the speech….
"There are those who are asking the devotees of civil rights, 'When will you be satisfied?' We can never be satisfied as long as the Negro is the victim of the unspeakable horrors of police brutality. We can never be satisfied as long as our bodies, heavy with the fatigue of travel, cannot gain lodging in the motels of the highways and the hotels of the cities. *We cannot be satisfied as long as the negro's basic mobility is from a smaller ghetto to a larger one. We can never be satisfied as long as our children are stripped of their self-hood and robbed of their dignity by a sign stating: "For Whites Only."* We cannot be satisfied as long as a Negro in Mississippi cannot vote and a Negro in New York believes he has nothing for which to vote. No, no, we are not satisfied, and we will not be satisfied until "justice rolls down like waters, and righteousness like a mighty stream."
Back
Next