Friday, January 12, 2007, 22:51 - Travel, Shooting, Personal
Munich, Germany
Traveling in Germany is fun and easy! Yesterday I took the ICE (high speed) train from Stuttgart to Munich for a party at Lisa and Renateís studio. They insisted that I come so how could I refuse? It also gave me the chance to visit Calumet and to meet with Meike from Ketchum who I also met during Photokina. More about that later, first the train and then the party.
I have to say the train was quite comfortable. I sat back in my somewhat plush seat and rejoined the famous battle of Arnhem in Cornelius Ryanís great book ď
A Bridge Too Far
.Ē As I sped through the German countryside the sun fled from view leaving only a cobalt colored sky to backlight the barren tree branches. I paused from the mayhem the Germans were inflicting on the troops of the 1st British Airborne Army to watch an inky darkness overtake the last light of day. Having grown up in New York City, I fell in love with trains of all kinds and this trip simply reinforced that love.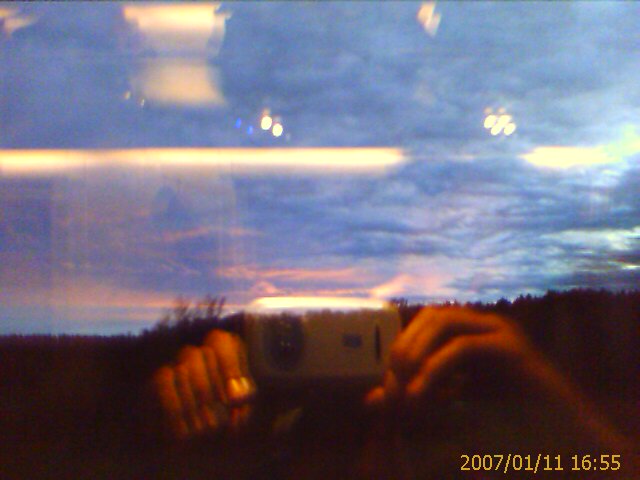 A camera phone photo from the speeding train. ©Damaso Reyes
I arrived in Munich in about two and a half hours and left the main station and boarded a tram for a brief ride. Map in hand, I made my way to the studio and arrived a short time later. Both Lisa and Renate were still at home fixing their faces I suppose but then again I was early so I grabbed a glass of wine and loaded my camera to start taking the first images of my trip so far.
As I have mentioned in a previous entry, or at least I think I did, I am not the kind of photographer who is always running around camera in hand. While I may seem strange that it would take me a whole four days to start shooting, thatís the way I am. While I enjoy shooting for the hell of it, my background in photojournalism, and perhaps more tellingly the fact that until recently I never had as much film as I needed, leads me to shoot only when I have an assignment or something specific scheduled. Over the past year or so I have mostly grown out of it but at the same time I donít feel I need to shoot if I donít feel like it, after all, I am not trying to prove anything.
Soon the ladies arrived and the party kicked into full swing. I managed to shoot a few rolls before I decided to put the camera away and socialize, something I need to get better at if I am going to make some friends and not live like a monk up in the castle on the hill. We stayed until two or three (itís all a little fuzzy) and a good time was had by all.
I woke up with the slightest of headaches, fortunately I remembered to start drinking water towards the end of the night, and set off to walk around Munich for a while on my way to meet Meike. It sounds trite but the history really is all around you in Munich. From the statuary to the imposing buildings it definitely feels like a place that has been around for a while, like a few centuries. Meike and I had a great lunch where I got to sample that famous German delicacy curry wurst. For those of you unfamiliar with it think of a big hot dog on a plate drenched in sauce. Thatís not really accurate but hey, Iím not exactly writing for Gourmet magazine either. After lunch I set out for Calumet where I hoped the staff there would be able to sort me out.
Rainer, a tall good natured fellow, entertained my silly questions for the better part of an hour. Most of his responses were in the nature of ďNo, we donít have it here but we can probably order it,Ē a welcome relief if not totally satisfying.
The big issue is still that of the enlarger. Right now there is a decent condenser head in the darkroom but I would really like to get a cold head. If anyone knows of where I can pick one up here in Germany, sing out. But I think I am well on my way to making some magical pictures. I may be ambitious enough to do a little test processing so I will let you know how it goes.
Back
Next