Thursday, January 29, 2009, 10:18 - Commentary, Photo of the Day
Sturovo, Slovakia
We've talked about the topic of
hate speech and censorship
before but it never seems to get old does it? The Netherlands is our next stop where a right wing politician will soon be on trial for airing his repugnant views on Islam,
as we learn from
Der Spiegel.
"Last year, a Dutch public prosecutor decided not to take legal action against politician Geert Wilders for his anti-Islamic statements, which included calling the Koran a "fascist" book and comparing it to Hilter's "Mein Kampf." Wilders, a member of parliament with the populist Freedom Party (PVV), made headlines around the world in March 2008 with his film "Fitna," which juxtaposed verses from the Koran against a background of violent film clips and images of terrorism by Islamic radicals.

"Dozens of organizations and individuals in the Netherlands wanted to bring charges against the politician, but the prosecutor decided that while painful to Muslims, his remarks were not criminal.

"On Wednesday, Amsterdam's Court of Appeal disagreed and found that there was a case of inciting hatred to answer for, both because of the content of Wilders' remarks and the way in which it was presented. The judges said they had weighed Wilders' anti-Islam rhetoric against his right to free speech and ruled he had gone beyond even the normal leeway granted to politicians."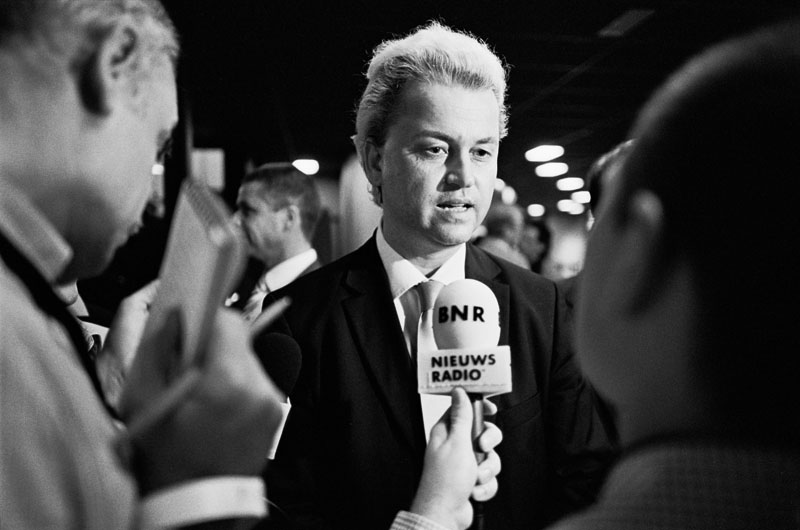 Why on earth would you want to ban me? The Hague 2005 © Damaso Reyes
Personally I couldn't disagree more with Wilders' point of view. But there is an old saying in American, where freedom of speech is guaranteed by the
first amendment
to the constitution: all speech, especially that which we dislike, must be protected. Of course in America we have struggled with the concept form the start but the principal is there. Banning hate speech or foul ideas does nothing but drive them underground. Only active, open and honest discussion will allow these ideas to be exposed to the harsh light of reason. It is far easier, and far less effective to simply ban something you don't like than to do the hard work of convincing, yes convincing people that these ideas are wrong.
No matter what the outcome it is likely that the right in Holland will have a new martyr and it is highly unlikely that his trial will do anything but provide and international forum for his platform.
Back
Next