Friday, October 17, 2008, 11:11 - Commentary, Photo of the Day
The question we all must ultimately ask is:
what do I want to be?
Sure it sounds like something a 6 year old would say but how many of us have honestly asked and answered that question lately? The reason I mention this is because of
yet another article
on PDN's blog extolling the virtues of a camera which shoots video.
"Earlier in the afternoon, Laforet suggested to me that the new cameras, which allow image makers to create commercial-quality still and video images working on their own in low light, were a major technological advancement along the lines of the daguerreotype, the Brownie and the 35 millimeter. However, he said, the technology in the Nikon D90s and the Canon EOS 5D Mark II's would be a bigger advancement than those preceding landmarks, because, he said, it would "redefine what our jobs are" as photographers. Given their technical skill sets and stylistic sensibilities, photojournalists, Laforet thinks, are the people best equipped to utilize this new imaging technology."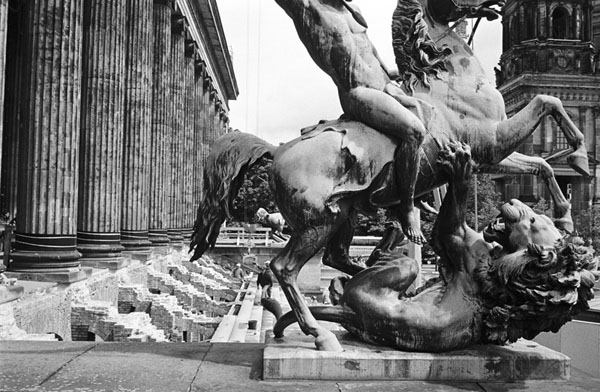 Film at 11.
Berlin
2008 © Damaso Reyes
For me here is what it all come down to: you are in a hotspot right in the middle of the action. Something incredible is about to happen do you A.) shoot stills or B.) shoot video? This is the question thousands of photojournalists will soon have to answer. Some will no doubt decide to shoot video and pull out still images but this is no longer photography it is videography.
The two fields have vastly different needs and you can't really do both, at least not well. People looking to shoot a lot of video will be frustrated by the limitations of a DSLR. I am not a luddite, as you know I have a digital camera and use it. The real problem is that today photographers are increasingly asked to do jobs for which they have little training and even less desire. That doesn't really change anything but it is important to note.
As for me, I will stay with the stills. If and when I want to shoot video I will get a video camera. But I am a still photographer. Since age 16 I have had the word photojournalist on my business cards.
It isn't going away anytime soon…
Back
Next