Thursday, June 14, 2007, 01:30 - Travel, Shooting
Geneva
Well it has been two incredible days, almost enough to make me wish that I had taken physics a little more seriously in high school, sorry
John
, all I can do is take photos…
I arrived in Geneva early yesterday morning after traveling all night on the train, next time I will splurge and get in a day early so I am a little less tired but right now I am young and underfunded so without a single drop of coffee I made my way to CERN on the #9 bus. On the way to CERN it struck me just how international a city Geneva is, something I should have realized since it hosts both CERN and several United Nations agencies but after spending so much time in Stuttgart, which is, let's just say less diverse, it was like a little taste of home seeing all the different faces speaking all those different languages.
I made my way to CERN's reception area where I was greeted by fellow American Katie Yurkewicz who would be my guide through the world of particle physics. Several people have asked me both how I came to learn about CERN and why I chose to go there to photograph. The simple answers are how couldn't you have heard about CERN and why wouldn't you want to go there? Seriously, CERN has been in the news for years, especially recently because they are building the
world's largest particle accelerator
. At 27 km in diameter, this will also be the world's most powerful, allowing the physicists there to smash protons together at close to the speed of light. And it is a great example of European cooperation with scientists from all over the continent, not to mention the world, contributing their knowledge.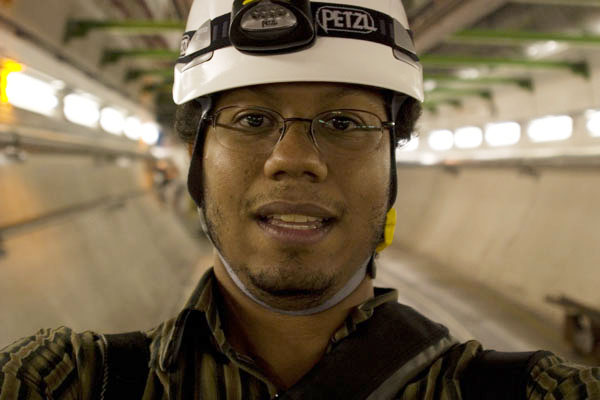 Damaso Reyes, particle physicist for a day... © Damaso Reyes
Of course you ask why would anyone want to do such a thing? The answer is by doing so the scientists hope to create conditions close to those which existed just after the creation of our universe in order to find some exotic and rare particles like the
Higgs Boson
, particles which have been theorized as being the smallest and most basic building blocks which make up our universe, but have yet to be found.
So in a large tunnel underneath Switzerland and France, they are building experiments which hope to detect these particles. It is very ironic that they are building the world's largest, well just about everything it seems like, in order to detect the universe's tiniest particles. I was extremely lucky to visit CERN now while the experiments are still under construction, in a year they will all be underground and inaccessible.
Big enough for you? © Damaso Reyes
First Katie and I drove into France (my first trip by the way) to visit the
Compact Muon Soleniod
. It just goes to show you that scientists do have a sense of humor because when we walked into the massive building where parts of CMS are being built we were confronted by a massive object, at least 15 meters tall. The colorful detector is just one of many which will examine what happens when you slam a bunch of protons together at 99.99% the speed of light. By the way, I am not getting into detailed descriptions because A.) you can follow the links and read all about it and B.) I don't want to screw up the science.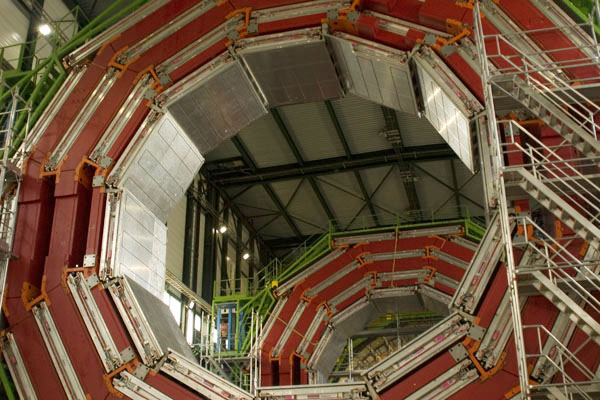 Just one part of the CMS. © Damaso Reyes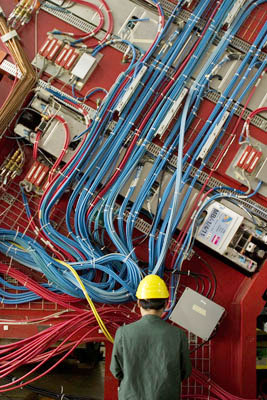 Plugging away... © Damaso Reyes
The scale of these "experiments" truly is awe inspiring, it is simply amazing that we can build things so massive and complex. Words fail me so here are some photos.
After this we went down.
Into the heart of the beast. © Damaso Reyes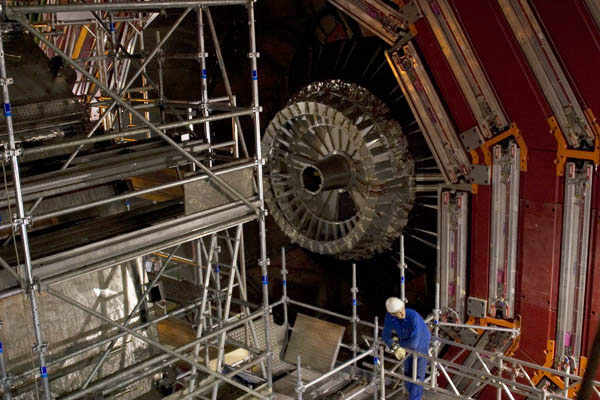 Pretty cool, huh? © Damaso Reyes
Down into the tunnel where the
Large Hadron Collider
lives, cue scary music…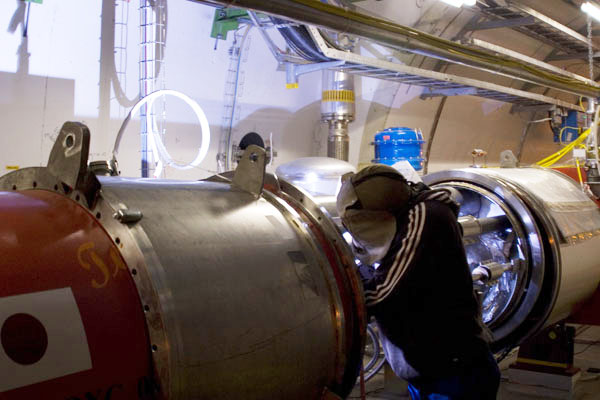 A little fine tuning on the beam pipe. © Damaso Reyes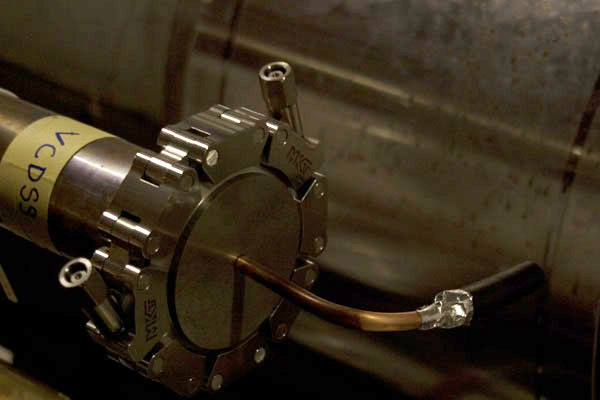 This is what all the excitement is about. © Damaso Reyes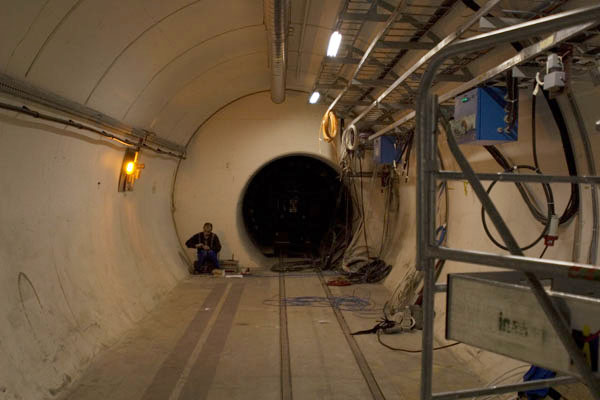 We've come to the end of the road...© Damaso Reyes
After seeing CMS you expect the tunnel to be massive, and it is pretty big but the actual beam pipe, where these itty bitty protons will be whizzing around is pretty small, maybe half a meter at best. But the pipe needs to be vacuum sealed and cooled down to a crazy temperature and serviced so when you factor all that in the tunnel gets big. Of course the caverns that hold the massive detectors are, well massive themselves and I got a chance to appreciate the scale of what they are doing again as I saw some of the CMS begin to come together.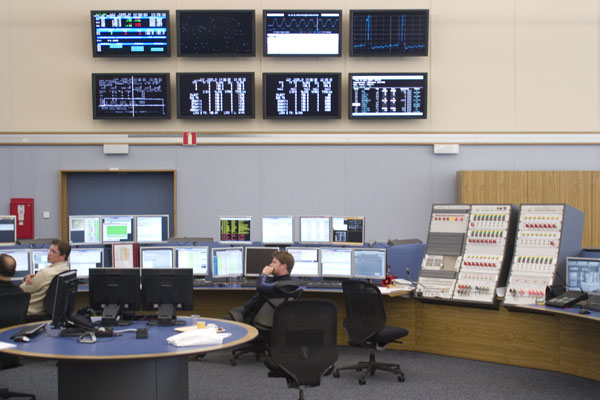 All your protons are belong to us. © Damaso Reyes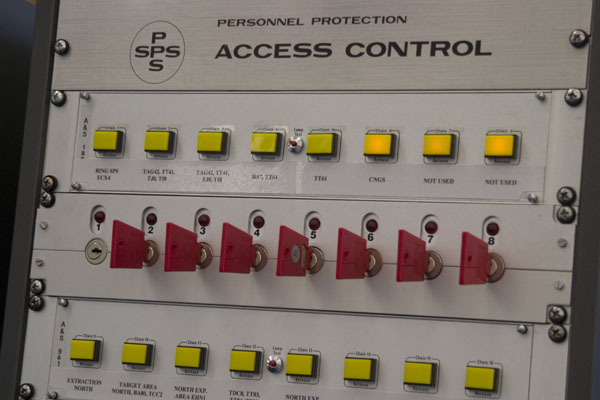 Everything is under control! © Damaso Reyes
After a short drive to the control center we went to visit
ALICE
. No, she's not a person but another of the LHC experiments: A Large Ion Collider Experiment to be exact. Again, a pretty big thingy, which is about how much justice I can do to the millions of man hours put into this device, or devices to be more accurate.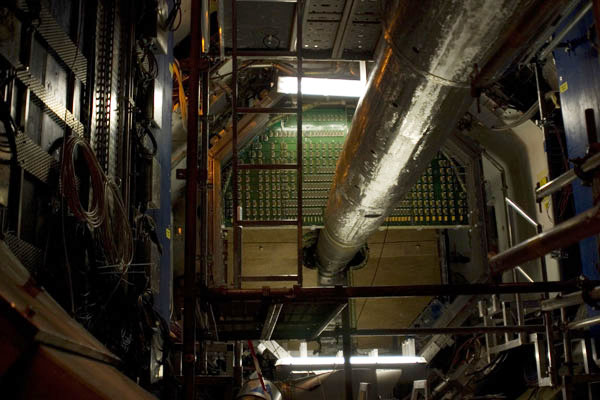 The heart of ALICE. © Damaso Reyes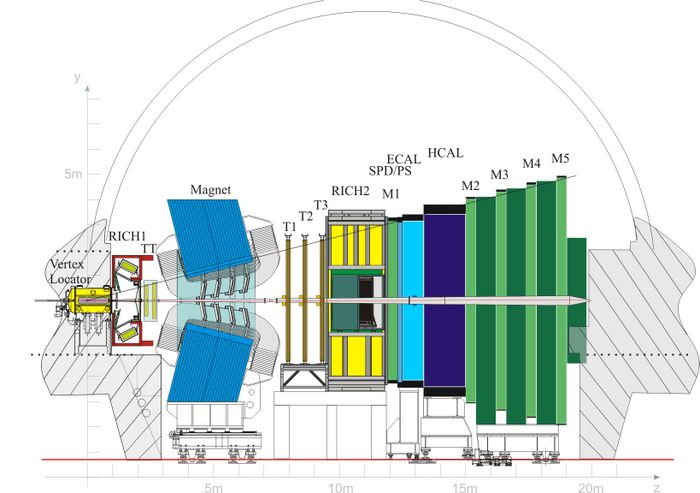 LHCb is in effect.
The last stop was to the
LHCb
experiment. It just amazed me the amount of running around and climbing around that these scientists do. If you think that particle physicists just sit at desks all day well here is proof that they don't!
Some of a few thousand detectors. © Damaso Reyes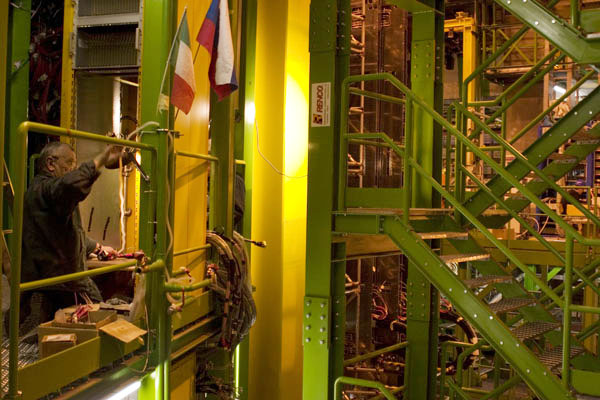 Working hard... © Damaso Reyes
In the evening I went to Lausanne where I had dinner with Caroline Tosti, an old friend I met in Rwanda the first time Jimmie and I went in 1999. I had not seen here then so it was great to have a chance to catch up after all these years. Lausanne is a lovely city on Lake Geneva and I had a great time but couldn't stay out too late since I had to get up early and head back to the detectors!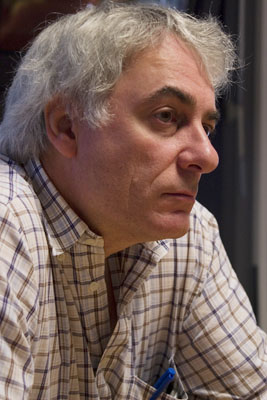 Agostino. © Damaso Reyes
Today was just as interesting as yesterday. I spent the day with two scientists working on different experiments, offering two different views of what it must be like to work here. First I hung out with Agostino Lanza, who is working on the
ATLAS
experiment. A distinguished older Italian gentleman whose soft voice belies an extremely active mind, he is a senior scientist and his day was quite a bit more relaxed than what I would see later. First stop: a meeting. In Italian. That lasted over an hour. And I don't drink coffee.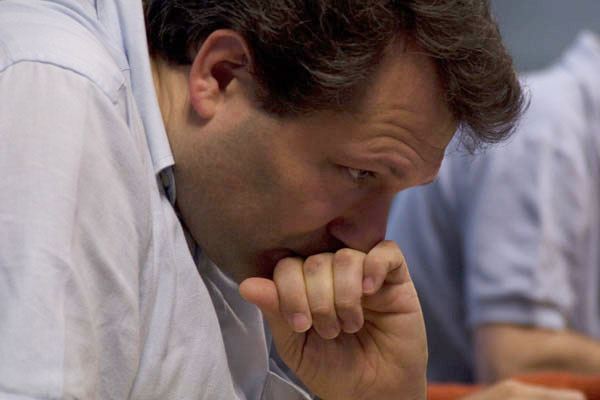 A tough one... © Damaso Reyes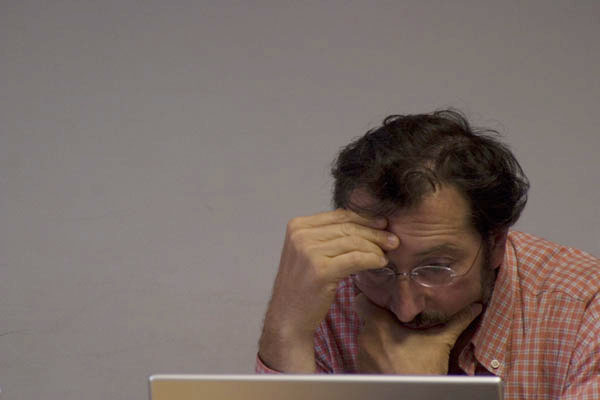 You can see the gears turning... © Damaso Reyes
Of course anytime you are building anything this huge you are going to have meetings and lots of them. I think I got off easy! After the meeting, which was discussing some problems they are having with some of the detectors, we went around CERN running errands, picking up equipment and other odds and ends, something I would expect one of his graduate students to be doing but it just goes to show you that everyone here works together! Just before lunch I got to see some of the massive data processing center for ATLAS which will be used to decide which of the millions upon millions of collisions per second are of interest and should be saved. As a tech head it was pretty cool seeing all that massive computing power, all I could think about is the awesome LAN video game parties you could have!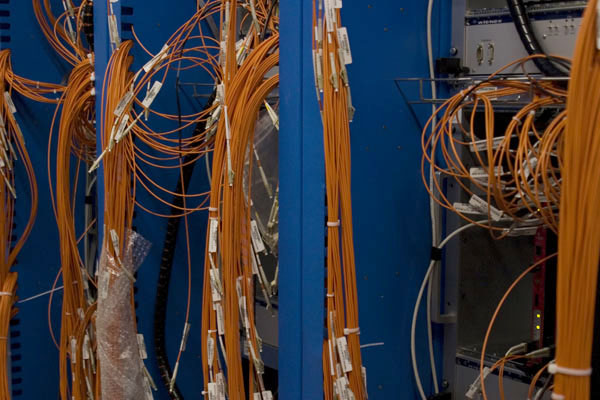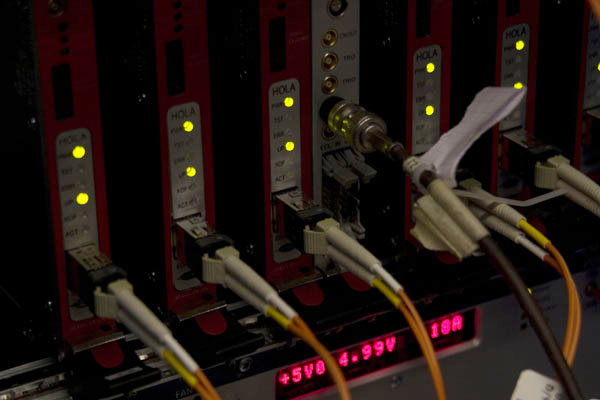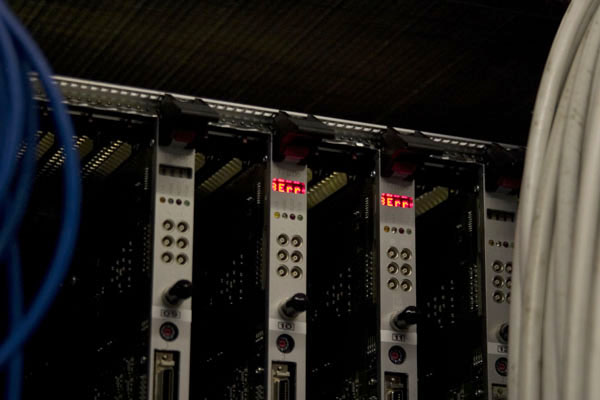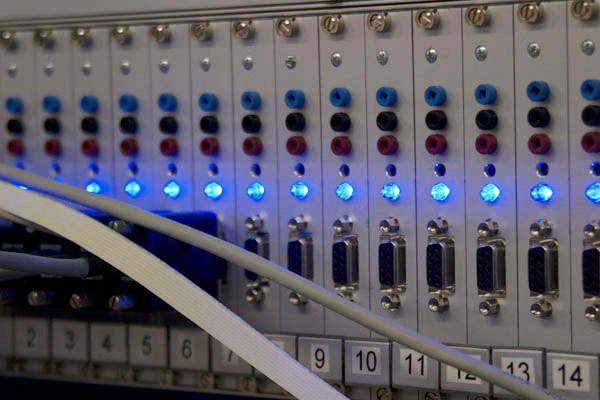 Too much tech, too much fun... © Damaso Reyes
After lunch I spent the afternoon with
Jesus Puerta Pelayo
, who is working on the CMS experiment. Young and fit, Jesus was full of energy and showed it as he raced back and forth from one part of CMS to the other. His main challenge while I was with him was to reinstall a circuit board. Sounds pretty easy but this isn't just opening up your PC at home, we had to climb four stories of scaffolding to get to the spot where it had to be put back in. Then we had to climb back down and get on a small crane to access the backside and plug in the data ports. Pretty cool but also time consuming. "I'm not a physicist," he joked "I'm a technician!" he joked but what is amazing is that most of the people crawling around these massive machines are indeed physicists. Imagine going from the classroom and the blackboard to a massive hole in the ground, this must surely be the most interesting and exciting time of their lives!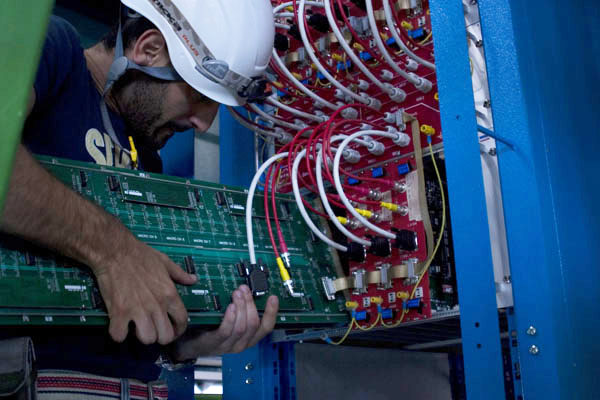 Once again Jesus saves the day! © Damaso Reyes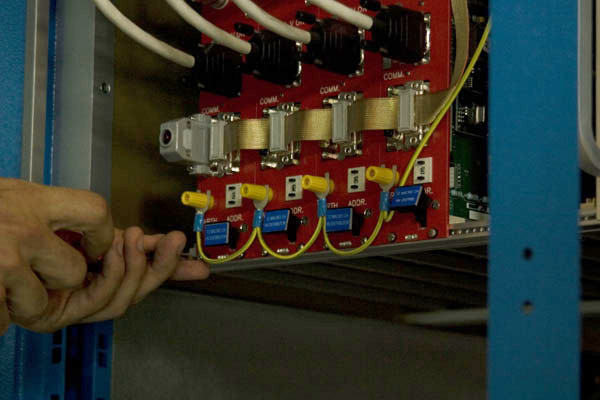 Minor adjustments.© Damaso Reyes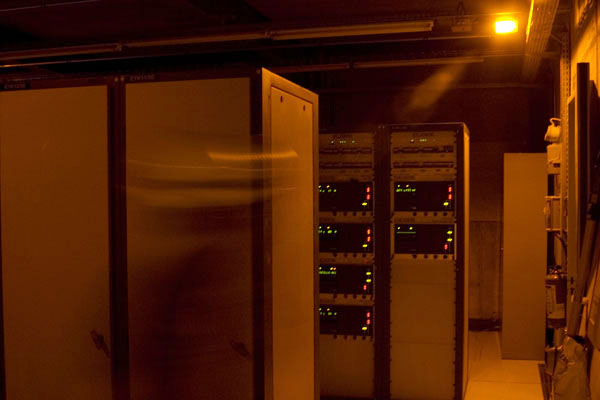 The Holy ghost. © Damaso Reyes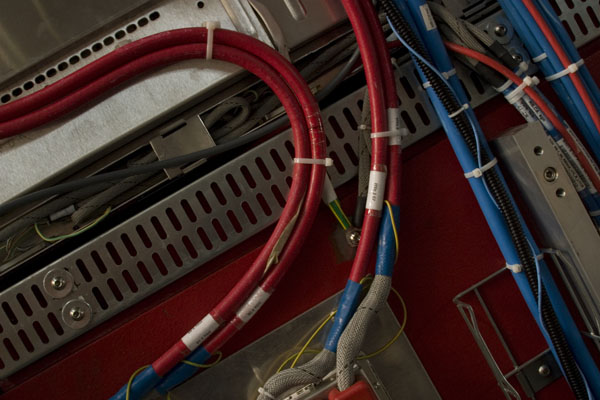 Up close and personal. © Damaso Reyes
And then it was time to say goodbye to CERN and all the lovely people there. I hope to come back over the coming months as the experiments come closer to going online but I will always remember my exciting two days in the world of science!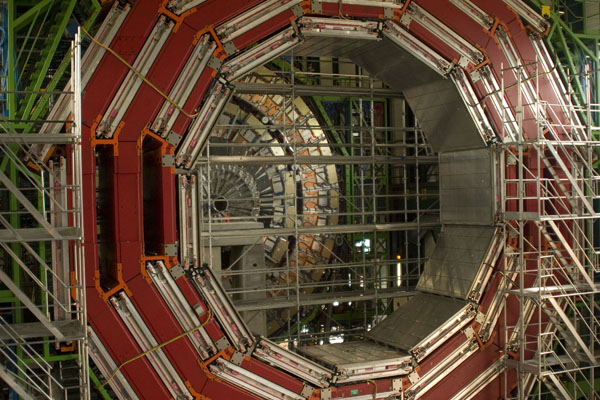 © Damaso Reyes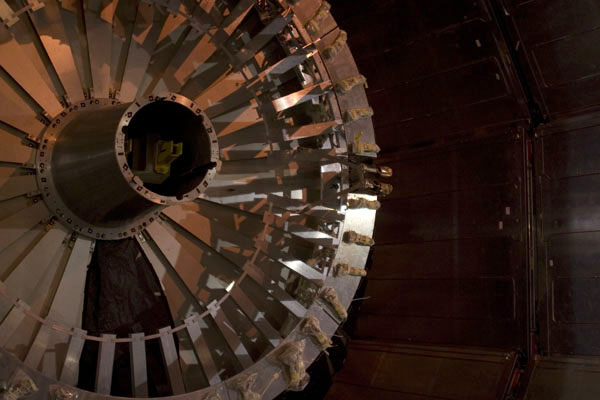 © Damaso Reyes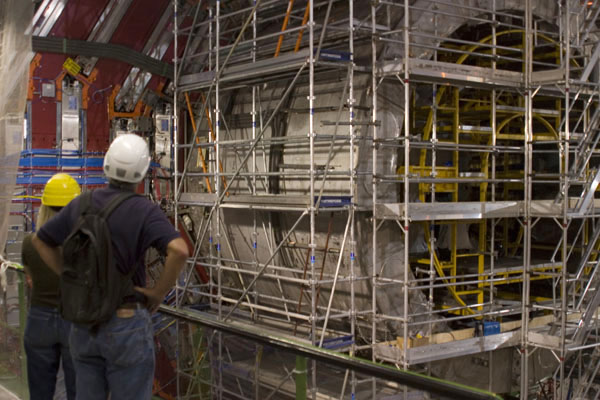 © Damaso Reyes
Back
Next