Monday, June 11, 2007, 22:17 - Commentary
Stuttgart

Why aren't you in Hamburg? Two different people asked me this question in the space of as many days and they, as well as you I suppose deserve an answer.
Of course my friends were referring to the
anti G8 protests
happening in Hamburg and other cities here in Germany, which played host to the event. Instead of photographing demonstrators voicing their opposition to global imperialism I was off taking photographs of
expensive cameras
and
sick children
. But again the question is why miss out on the biggest story of the month, if not year here in Germany?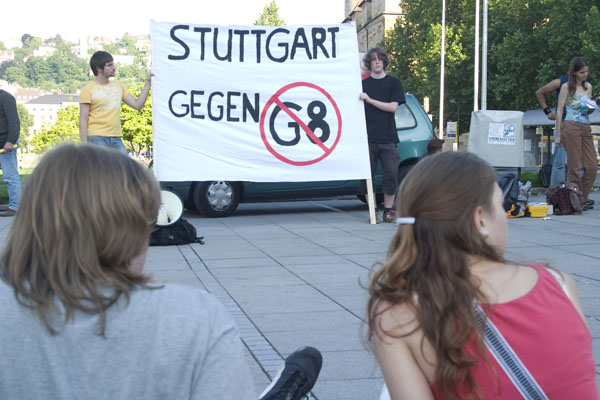 A picture just for Conan! © Damaso Reyes
It is important for you to understand where I am coming from. For years, in fact for the bulk of my career as a photojournalist, I spent my time photographing demonstrations, protests, press conferences, fires and
perp walks
. Any kind of breaking news was of interest to me. At a certain point, in fact it was after I returned to New York from Indonesia, I realized that this was not the kind of work that I wanted to do. There are people who do it far better than I can and as I explained to someone this week I believe that when everyone is covering a particular topic or event (Iraq,
Paris Hilton
, etc) that is in fact a perfect signal to me that I should be covering something else.
Now if I had an unlimited budget and an assignment from a big time newspaper would I have been covering the protests? Perhaps, but as I told my friend Conan this week over the next few years there will be no shortage of protests. This project is not about a protest that happens this month; it is about the larger themes that are impacting on the lives of people living here in Europe. I have to stop focusing on the trees and start mapping the forest and sometimes, in fact most of the time, that will mean missing out on the story du jour.
I can live with that…
Back
Next